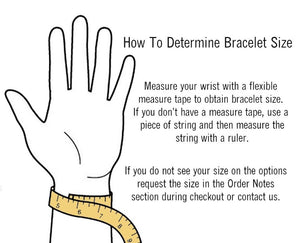 Finding out the right size for your bracelet is an important part of the ordering process. By following a few simple steps you can be sure to find what's right for you. 
Measure your wrist using a tape measure or flexible fabric measure. That number will let you know the minimum size required to fit. Depending on your preference for fit, you would either order close to that size for a less loose fit or larger for more "dangly" look. 
All Awaken The Gems bracelets are made with a stretch cord and will expand to fit over your hand, but extreme stretching or velocity can result in the deterioration of the integrity of the cord.