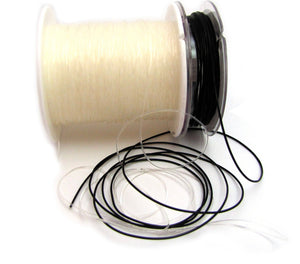 Many people are hesitant to buy stretch cord gemstone bracelets as they may have already done so in the past and had them snap or break. While this is a complete possibility, regardless of material used due to several factors, there are products that are more durable and resilient to some of those factors. 
Awaken The Gems uses 1mm thick Stretch Cord, unless the circumference of the hole in the bead does not allow for that, at which time a thinner version of the same product is used. 
Many commercial jewellery makers use a product called Floss Elastic Cord (as picture above). This is the product that most people have their experiences with. This product is called floss because it resembles dental floss which is more of a string made up of many small fibres. Over time and with exposure to normal daily elements, these little fibres break down and begin to fray. Eventually the integrity is broken down enough and causes it to break. If you've ever experienced this...beads are flying everywhere and it can be frustrating that
a) you don't recover all the beads OR
b) your favourite bracelet is done.
By using a more durable cord you will get longevity out of the wear/use of your bracelet.
*Please note that there are many things to consider environmentally when talking about the life of your jewellery in general. Consistent exposure to water, chemicals,  over stretching, will effect the life of any type of material.