12mm Super Seven Bracelet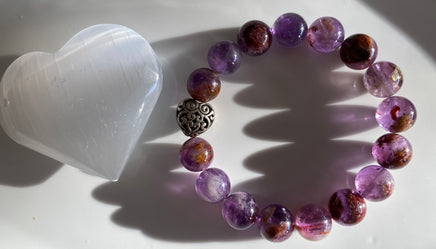 Super Seven crystals are a potent combination of seven minerals including; Amethyst, Cacoxenite, Lepidocrocite, Goethite, Clear Quartz, Rutile and Smokey Quartz. Due to its high frequency, it does not require cleansing and can assist in the cleansing of other crystals and the environment they are placed in.
Super Seven is a potent healing ally—bringing you protection, release of negative emotions and past patterns, and purification of our soul, allowing you to reach a place of clarity, focus, creativity, and positivity.
Beads 14mm
Durable Stretch Cord - Fits up to 7.5"
Natural stone beads will vary in size, colour and shape